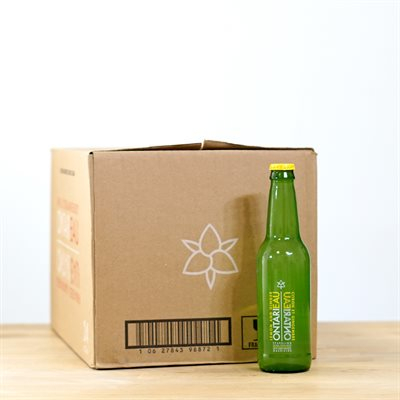 Ontarieau
Contact: Kevin Belluz, local distributor for Adam Kagan
City: Oro-Medonte, ON,
Email Address: superiorseasonsfood@gmail.com
About Us
The first iteration of Ontarieau, called Deluge Sparkling Water, launched in 2009. Initially, Deluge was a way to raise money in honour of Kagan's mother for a research fund at Princess Margaret Hospital, but the small-scale summer project grew and before long, in 2015, Kagan rebranded his endeavour as Ontarieau.

Available in natural and naturally flavoured varieties — such as grapefruit-mint and lemon-ginger — the water is sourced an hour north of Toronto in Oro-Medonte and made bubbly with the help of a carbonation stone. Kagan's water has won multiple awards at the largest water tastings in the world, yet, what he might be proudest of is his company's commitment to the environment. "99 per cent of our packaging is responsibly re-used," he explains. "We collect our glass bottles, wash, sanitize and refill them, eliminating packaging waste." He goes one step further by screen printing his labels, eliminating the need for unnecessary paper stickers.

Kagan's future goal is lofty. "Ultimately, we would like to improve the environmental impact of the beverage industry by establishing a province-wide bottle return program," he explains. A glass of sparkling water with dinner doesn't have to involve cross-Atlantic shipments or foreign glass doomed for the recycling bin. It can be locally sourced and responsibly produced, if Kagan has his way.