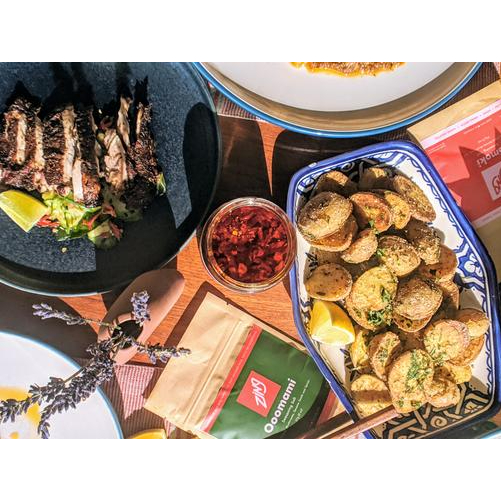 Zing Pantry
Contact: Kevin Belluz, local distributor for Zing
Address: 32 Trolley Crescent Toronto, ON, M5A 0E8
Email Address: superiorseasonsfood@gmail.com
About Us
If your 2020 looked even remotely like ours (and it probably did), in the midst of *everything* going on, you probably cooked and ate at home a lot!

Those early days of lockdown in Toronto were overwhelming to say the least. And, instead of finding comfort in food, deciding what to cook (and sometimes, how to cook it) was doing the opposite - it was really stressing us out as we juggled life, work, and literally everything else within the confines of our matchbox-sized condos.

We love supporting our favourite restaurants, and wished every meal tasted like a restaurant meal. How could we bring restaurant-level variety and quality to everyday cooking? What could we learn from our chef friends that could apply to home cooking?

Enter: Zing

A line of pantry shortcuts designed to help you make quick, delicious meals at home, with recipes inspired from around the world. As a BIPOC-led business, we feel strongly that when it comes to the convenience of home cooking, access to new, diverse, and interesting flavours should never be a barrier to enjoying them when you eat at home. It's 2021. Time to look beyond that lonely, dusty "international" (a.k.a "ethnic") food aisle at big box grocery stores - Zing ships across Canada, and is available in-store at a select number of independent, small businesses.

But, what's a pantry shortcut?

At Zing, we describe pantry shortcuts as home cooking hacks that help you add a LOT of unique and complex flavour without spending hours in the kitchen. Smartly designed condiments, salts, simmer sauces, dressings, stocks and more that can add a punch of flavour to a meal, minus the extra effort. Restaurant chefs do it all the time - which is why something that is 'made to order' in 20 minutes, tastes like it took 6 hours to make!

Whether it's a tried-and-tested recipe on your weekly rotation, or a new favourite, just add a Zing condiment or seasoning salt (and if you want, nothing else!) to your protein, veggie, lentil, or starch of choice and cook it how you normally would. Thank us later! If you're not sure where to start or need some recipe inspiration - check out our blog.

All our condiments and seasoning salts are vegan-friendly, gluten-free and hand crafted in small batches by professional chefs who have worked in restaurants around Toronto! We currently operate our production out of a licensed restaurant kitchen in Toronto's Parkdale neighbourhood.