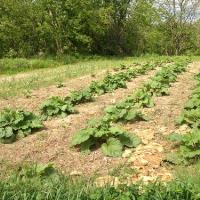 Sovereign Farms
Contact: Kevin Belluz, local distributor for Sovereign Family
Address: 130 Lutesville Road RR#1 Waterford, ON, N0E 1Y0
Email Address: superiorseasonsfood@gmail.com
About Us
We are a vegetable greenhouse operation specializing in grape tomatoes. The plants are grown from February to December each year. Production starts in late April and goes through to Christmas.

Practices
We seek to grow environmentally friendly grape tomatoes. Integrated pest management is used extensively in the greenhouse. A variety of wasps and mites are established in the greenhouse micro environment to control the unwanted pests. Bumble bees are brought into the greenhouse to assist in the pollination of the flowers.
The fertilization system is computer controlled. The nutrients within the fertilization system are carefully monitored to maximize the flavour of our grape tomatoes.

The ideal greenhouse climate is also computer controlled to enhance the growing process. The heating, cooling and humidity are all kept in balance to optimize plant growth. Our greenhouse is enriched with CO2 for improved plant and fruit quality.

We are always looking for different varieties that provide the best taste. Flavour is very most important to us; but, texture, shelf life, and production are all considered in choosing the varieties we grow.