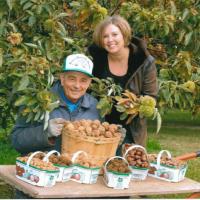 Grimo Nut Nursery
Contact: Kevin Belluz, local distributor for the Grimo Family
Address: 979 Lakeshore Rd Niagara-on-the-Lake, ON, L0S 1J0
Email Address: superiorseaons@gmail.com
Phone: 905-934-6887
About Us
Grimo Nut Nursery was established in 1974, but Ernie Grimo's interest in edible landscape trees began long before that. Throughout his childhood he loved to explore the plants and trees that were abundant in Niagara Falls where he was raised. His heritage complimented his natural appreciation of locally grown foods. Along with his wife, Marion, their first home was landscaped with dozens of fruit and nut trees. They realized the need for more space and purchased the 11 acre farm in Niagara-on-the-Lake in 1974. It has since grown to be 14 acres.

When Ernie began there were very few nut trees available and little was known about the potential for nut crops in Ontario. As a result Ernie decided to use his land to set up test orchards to evaluate the best nut trees that would grow in the Niagara region. Getting help from experienced growers and local pioneers, he was able to get grafted cultivars and seedling sources from across North America as well as from the commercial nut growing regions around the world.
Practices
These trees are grown and tested for their individual nut quality. Each tree is evaluated yearly on several factors including flavour, hardiness, productivity, commercial viability, cracking ability, and disease resistance. We have hundreds of promising trees growing from our own seed as well as the best selections sent from other growers for us to test in our location. Only the trees that prove to be outstanding are grafted and sold through the nursery. With our careful, ongoing research and evaluations you are assured of getting the best trees and nuts available.