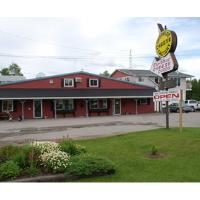 Thornloe Cheese
Address: 999 697 Hwy 11 N. Thornloe, ON, P0J1S0
Email Address: superiorseasonsfood@gmail.com
Phone: 705-647-7441
About Us
Thornloe Cheese has produced a respected brand of cheese products in Northern Ontario for over 71 years! Our secret to success is old-fashioned cheese making techniques and fresh milk produced in this unique agricultural area.Thornloe Cheese is a 100% Canadian, 100% farmer-owned company. Although the product has grown tremendously from its early days, the company remains headquartered in Thornloe, Ontario, where it was formed.
Practices
In 2007, the future looked bleak for a small cheese factory in northeastern Ontario. The facility - which produced cheese curds and cheddar - couldn't compete with newer, more efficient operations. But when the multinational owner decided to shut the plant, local farmers banded together to save it. They installed three aging rooms and implemented an innovative production process that allows the small facility to produce an entire range of award-winning cheeses. At the same time, water and energy retrofits helped cut operating costs. In the past six years, sales have nearly tripled. The number of employees has leapt from eight to 25, and the plant supports 25 local dairy operations. Today Thornloe Cheese is 100 per cent Canadian, 100 per cent farmer owned and more successful than ever.
In 2011, Gencor merged with Eastern Breeders Inc. of Kemptville, forming EastGen. EastGen is now the proud owner of Thornloe Cheese.
Over the years, Thornloe Cheese has become a popular attraction for travelershungry for cheese, cheese curds, and ice cream. A total of over 3 million litres of milk runs through this popular tourist attraction every year. The plant remains an outlet for local dairy producers who wish to ship to a northern Ontario location.
Today, Thornloe Cheese operates one central retail store in Thornloe and services a wide range of wholesale customers, from retail outlets to foodservice establishments. Its products can be found in establishments in Northern Ontario and Northern Quebec.
The company has developed new cheeses for the Canadian ethnic market and Canada's emerging functional food market. These efforts have increased production in the plant as well as the products available to consumers across Canada. Thornloe Cheese continues to produce a quality Northern Heritage Cheese.