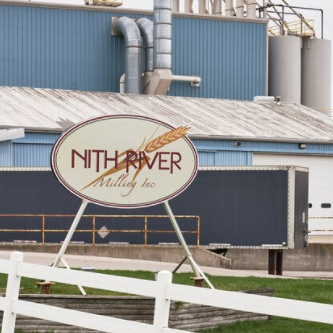 Nith River Milling
Contact: Kevin Belluz local distributor for Jeff and Julie Jones
Address: PO 1315 Linwood , ON, N0B 2A0
Email Address: superiorseasonsfood@gmail.com
Phone: 519-656-2231
About Us
Owned by Jeff and Julie Jones, Nith River Milling keeps true to its roots with a small staff and family ownership. In operation since 2004, we provide grain solutions through bulk distribution of high-quality barley, oat, and wheat products.

Located in Wellesley, Ontario, we work almost exclusively with Ontario farmers to source grain for our milled products. As a wholesale supplier, our products are shipped within both Canada and the USA, as well as internationally.

Nith River Milling provides food manufacturers and bulk food distributors with the highest quality oat, barley, and wheat flakes, and pot and pearled barley. Our modern European milling equipment, technical expertise, and exacting quality control processes ensure that you receive an excellent milled product every time.

Nith River Milling provides on-demand shipping for all of our milled products throughout eastern Canada and the eastern USA. We provide specifications and samples on request.

All of the ingredients that we provide are eco-friendly. They have been milled with modern European technology ensuring efficient use of water and energy resources. We also source all of our ingredients from within Ontario, lowering shipping costs and our carbon footprint.