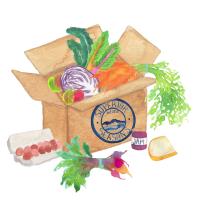 Seasonal Farm Food Box - Wed
A weekly subscription that continues from season to season.
You must log in to see items currently for sale and pricing.
This box contains items grown as close to home as possible using local first, Northern Ontario second and other nearby neighbours last. We'll fill it mostly with fresh vegetables and/or fruit (depending on the season) and the rest may be made up of specialty products like local cheese, bread, milk, coffee, eggs, etc. We source from mostly small and medium scale producers and include as much variety as possible.



This subscription automatically continues from season to season (spring, summer, fall and winter - get it - Superior Seasons!). Your first box day will start 6-10 days after you confirm your order, depending on what day you are ordering for. We will send you an email a few days in advance of your first box to notify you it's coming! We need this time to alert producers to grow, bake, cook, sort, or pack extra just for you! You can cancel or pause your subscription by providing us with 10 days notice. Payment occurs weekly.



No meat or frozen product is included. You can shop during your ordering period though to add items from any of our wonderful meat and fish producers or "bake-at-home" producers on the site and it will all come together.
You must be logged in to confirm your subscription
Login