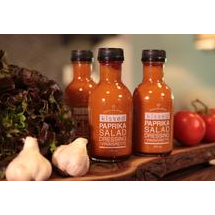 Kissed Foods
Contact: Kevin Belluz, local distributor for Kissed
City: Toronto, ON,
Email Address: superiorseasonsfood@gmail.com
About Us
Our mission is to build a unique, purpose driven prepared foods company that makes vegan salad dressings using locally-sourced ingredients that are preservative-free and crafted with love.

When we first thought about launching Kissed Foods, we thought we must be crazy. The prepared foods industry is massive, with huge multi-nationals dominating shelf space in the supermarkets. But then we thought, there is something missing, and that is a line of products made from locally-sourced ingredients that are vegan, non-GMO, and preservative-free. We have some of the greatest food producers right here in our own backyard in Ontario. These are the products we use, carefully sourced, to make food your body will love!